LESSONS LEARNED
Randy Smith
WORLD CLASS PGA INSTRUCTOR AND DAD
Imagine you're a kid and it's summer time. A mile and a half from home, your mom drops you at the entrance to the local country club. She'll be back to pick you up at the end of the day.

Your options are endless. To the right, a pool and tennis courts. To the left, an entire clubhouse to explore. In front of you, a pristine 18 hole golf course.

And not far away, you catch a glimpse of your dad in his office with a full day of work ahead of him. Except there's no mahogany desk in your dad's office. No filing cabinet. No paper weights. Not a single stapler in sight.
Laid out along White Rock Creek in Dallas, Royal Oaks Country Club is fertile soil for golf talent.
Your dad's office is a roomy patch of grass, lush in some places and carved up by divots in others. There on the lesson tee stands your dad, as much a fixture at Royal Oaks Country Club in Dallas as the silky fairways themselves.

Blair Smith spent her childhood prowling Royal Oaks, the club where her dad Randy Smith first became head professional in 1980. As a child, Blair remembers her dad zipping across Greenville Avenue on Saturdays to catch her soccer games between member lessons, the only dad to arrive in a Royal Oaks golf cart.
Blair dabbled in golf but it wasn't her thing; her brother Blake was much more interested.

A young Randy Smith at work at the PGA Championship. From L to R: Blake Smith(son), Paula Smith (wife), Randy Smith, and Blair Smith (daughter)
The Evolution of an Instructor
Randy Smith, though he's too humble to say it himself, is a legend in the world of golf. He's not the kind of legend whose name trends on Twitter or who shows up regularly on ESPN, but he's the kind of legend whose impact on the game of golf has already moved through multiple generations.

As a young instructor, he learned from the best. Early in his career he sought instruction from Jim Flick, the Harmon brothers, and Harvey Penick. It was from Penick that he learned that there's a huge gap between teaching a student and having a student actually learn from you.

"We can all tell everybody all the great things we know about the golf swing, and we can throw those out there at somebody you're giving a lesson to and hope something sticks," he says. "Or you can make a little playbook out of it like Mr. Penick did to disseminate information into the player where they can react on it."
Nurturing Talent
Perhaps one key to Randy Smith's significance in the lives of his players and his own kids is that there's not a cookie cutter "Randy Smith" golf swing or way of doing things. He doesn't try to remake players into a certain image.
Smith's approach is to take what the player does well and enhance it while guiding the player away from bad habits that might be hurting. It's a process that starts not with mechanics, but rather with motivation.
Randy Smith stands with a special bronze marker honoring his contributions to Royal Oaks and the game of golf during his 40+ years of service.
"I want to know what you want to accomplish," he says. "I want to hear a player say, 'Every time I get under the gun I start snap hooking,' or 'I've got no go-to shot. I'm just standing up on the tee hoping because I don't trust my ball flight."

It's hard to argue with the results his players are able to achieve.

Starting with a 13-year old Justin Leonard in the 1980s, Randy Smith has helped guide golfers to success at every level of the game, from high school and college, to mini-tours, to major championships and Ryder Cups.

Along the way, he's picked up plenty of hardware for himself. An 18-time PGA of America national award winner, Smith has been inducted to both the Texas Golf Hall of Fame and the PGA of America Hall of Fame.

A Simple Formula For Success
Championships for his players and awards for himself don't come easily, but the roadmap is simple: good habits, high expectations, and hard work.

It's a formula that Randy has instilled in Blair and Blake Smith. Both describe the work ethic and confidence they learned from their father.
"Work ethic is paramount. We were held to a higher standard than our friends around Royal Oaks because of who Randy is. Plus he could see us goofing off if we did."
When Blair eventually went to work for Randy in the Royal Oaks pro shop after college, they both made sure she established herself as the best person for the job, not just a shoe-in because she's Randy's daughter.

"I started doing all his buying," said Blair. "He gave me tips about the industry and made sure I knew what he expected, but he also told me he wasn't going to babysit me. I had to do my job well."

Turtleson layering pieces on display in the Royal Oaks golf shop
Blair Smith is now a fixture at Royal Oaks in her own right, serving as the club's retail manager, outfitting the club's shops with merchandise and sourcing uniforms for the club's staff.
"She's done so well," Randy said. "I'm very proud of Blair."
Blake Smith developed a tolerance for hard work and long hours as a junior golfer, eventually following in his dad's footsteps to the golf team at Texas Tech.
After college, Blake parlayed his inside knowledge of not only the game of golf but the business of golf into his current role as Managing Director at Hambric Sports managing a portfolio of high powered players including Scottie Scheffler and Brooks Koepka.
Randy Smith (left) and Blake Smith (right). Blake's passion for golf led him to a career as a sports agent, managing a roster of top-tier players for Hambric Sports.
Randy Smith worries that Blake may have inherited his own tendency to burn the candle at both ends, echoing the long days and nights Randy spent on the lesson tee building his career.

"Blake does it much more efficiently than I ever could," said Randy. "He can carry on his business worldwide with just his earbuds, and he does it beautifully. Even if he's out with his kids, he can take care of his business and then still be right there with them."

Making Their Own Way
With a legacy like Randy Smith's, including players that have hoisted the Claret Jug and donned the Green Jacket, it's fair to wonder if he ever hoped Blake or Blair would go all-in on playing golf as a career. The answer might surprise you.

"Never," he said. "It would have been a hell of a bonus, but it's hard being a golf pro's kid. I love it when they succeed at anything they do."

His kids know their father is a powerhouse instructor and can be a formidable boss, but at the end of the day he's not Randy Smith, PGA Hall of Famer at home.
He's still the same guy who gave them a place to grow up at Royal Oaks and zipped to their activities in a club golf cart.

Seen here with wife Paula, Randy Smith is still as enthusiastic as ever about helping promising golfers of all abilities develop their skills.
"Don't be afraid to change something. Pick one thing you want to get better at and start doing things differently. Once you start doing one thing differently (and seeing the results) you'll want to start doing other things differently."
Randy's Signature Look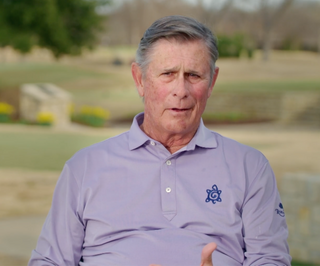 Randy Smith & Royal Oaks Country Club
Learn more about Randy Smith, Royal Oaks Country Club, and the high-profile players he's developed in this video tribute from the PGA of America:
Randy Smith & Royal Oaks Country Club
Learn more about Randy Smith, Royal Oaks Country Club, and the high-profile players he's developed in this video tribute from the PGA of America: