Is the popover the most versatile shirt you'll ever own?
Menswear expert Robert Blanton thinks so.

With a decade of experience dressing clients at Wm. King Clothiers, Robert says their custom popovers, as well as those from Polo Ralph Lauren, Sid Mashburn, and Turtleson are perennial best sellers.
"The popover is the most versatile shirt we do," he said. "The shirt itself adds a bit of flair if you're wearing it with a sport coat and no tie."
"It gives you something you might find a little more interesting than a full-placket dress shirt."
"But we love a popover because you can also dress it down so easily," he said. "It's so versatile."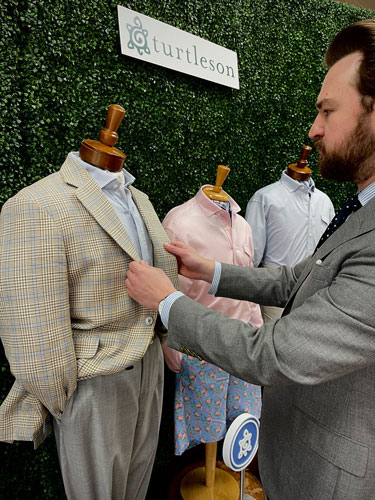 What is a Popover Dress Shirt?
Before we get too far, you might be asking: what's a popover shirt anyway?
Put simply, a popover is what you'd get if you crossed a polo with a dress shirt.
A popover has a button-down collar, but instead of a traditional button-up design, the shirt is pulled on over the head like a sweater or t-shirt.
A popover typically has a shorter placket than a dress shirt, meaning fewer buttons and a more streamlined look. Popovers can be made in a variety of fabrics, from lightweight cotton to heavier flannel or wool.
How to Style a Popover Dress Shirt
When it comes to styling a popover dress shirt, the only limit is your imagination.
We asked Robert to show us three creative ways to style our Logan Long Sleeve Stripe Popover.
He started out dressy.
Robert paired the Logan popover in luxe blue with a custom linen sportcoat, a pair of lightweight wool trousers from Ballin, and accented the look with a custom alligator belt from Atlanta's w. kleinberg.
"With this look, the sport coat has this nice pattern and this little tab detail on the collar, so we want the other pieces to be pretty subtle," he said.
"In this case, even though the Logan popover has a stripe, it works more like a solid. The main thing is to keep it simple."
Next, Robert showed us the opposite end of the spectrum – a relaxed look ideal for a day in the sun.
The beach look features the Logan in pale pink with our all-new Ridley swim trunk in luxe blue.
"We've got plenty of clients who wear their popovers all the time," he said. "They wear popovers to the pool, to the lake, or to the beach with their swim trunks."
"You can wear it as a pullover, just like a quarter-zip."
Robert rounded out the three looks with a pairing that you'll likely spend most of your time in – styling the Logan popover in luxe blue with a pair of classic five-pocket pants from Brax and a sophisticated belt from w. kleinberg.
"You can throw on a Navy blazer with this exact outfit to dress it up to go to dinner," he said. "Later, take the jacket off and roll up the sleeves for a much more relaxed look."
The popover dress shirt is a versatile and stylish option for men who want to look sharp without sacrificing comfort. Whether you're dressing up for a formal occasion or just running errands on the weekend, a popover is a great option that is sure to make you look and feel your best.
Ready to grab a popover of your own? Robert Blanton and William King at Wm. King Clothiers would be glad to help, or you can click here to find a local Turtleson retailer near you, and of course you're welcome to shop right here at Turtleson.com